Who We Are?!
This story has started in 1987 when my father David brings the moldavite to the USA. Almost nobody knew what moldavite is in that time but because ha was great at sharing his stories about moldavite it started to be more and more popular. He was actually the first Czech man who brings the moldavite here from the Czechoslovakia (in that time) and I am really proud of him.
His first gem show was in 1988 in Tucson AZ and he has been there every year since then. He did so many small shows in California. He has started to do Denver Gem Show in 90's and he became known as a Moldavite Man.
I am Marianne, I was born in LA but I grow up in the Czech Republic. I overtake the business from my father in 2016 and me and my husband Petr still continue with sharing the moldavite experience with you.
This is me Marianne and my father David in 2019 Tucson Gem Show
We've open our website in October 2016 and we've started to be known as a Moldavite Family. And I think that it is a perfect name for us. Because our family is in Moldavite Business for 32 years and I thing that we deserve this name.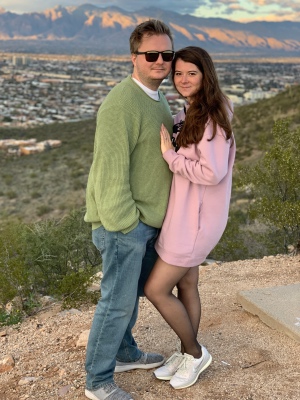 This is me Marianne and my husband Petr in 2019 Tucson Gem Show
We are really proud of each of you that you are with us and that you are making our Moldavite Family bigger and stronger. We are glad that we have the opportunity to sell these green stones in a good way to good people.
Thank you for everything our Moldavite Family